What Holds Us Together:
Partnerships

Partnerships with the entire community are vital to the success of Habitat. Churches, businesses, neighborhood associations, service groups, media and local government are all significant supporters of Habitat's goal of eliminating poverty housing and homelessness.
Support for Habitat comes in many forms. Financial gifts, in-kind gifts, volunteers (both skilled and unskilled) and prayer are always welcome and much appreciated.
Saginaw-Shiawassee Habitat for Humanity invites groups to partner on the construction and repair of local family homes. Sponsorship means raising a significant portion of the cost of construction and recruiting and scheduling volunteers.
Make a difference in the lives of local families by sponsoring a Habitat home. Every gift helps build a stronger community where families can be proud to live.
Every home sponsor will receive the following benefits in addition to those listed at each level:
Volunteer opportunities

Listing in our Annual Report

Invitation to the home's dedication

Listing in home's dedication program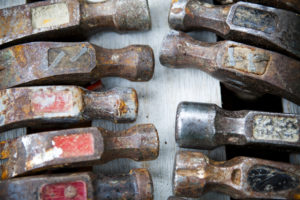 DIAMOND HAMMER ($100,000 OR MORE)
Top billing as presenting sponsor

Photograph of company official with homeowners in feature story

Speaking roles at ground breaking and dedication

Business logo on website, t-shirts, Facebook, newsletters, etc.

Plus Diamond Hammer benefits
PLATINUM HAMMER ($60,000-$99,999)
Professional photo keepsake

Visit with Habitat homebuyer

Plus Gold Hammer benefits
GOLDEN HAMMER ($35,000-$59,999)
Participation in home dedication

News story on Saginaw-Shiawassee Habitat's website

Plus Silver Hammer Benefits
SILVER HAMMER ($19,000-$34,999)
Article in Saginaw-Shiawassee Habitat's newsletter

8-inch sponsorship sign on the house

Plus Bronze Hammer Benefits
BRONZE HAMMER ($10,000-$18,999)
4-inch sponsorship sign on the house

Plus Copper Hammer Benefits
COPPER HAMMER  ($3,000-$9,999)
Group and photos featured on our Habitat's Facebook page
DAY SPONSOR ($1,500 per crew)
Group photo featured on our Habitat's

Facebook page