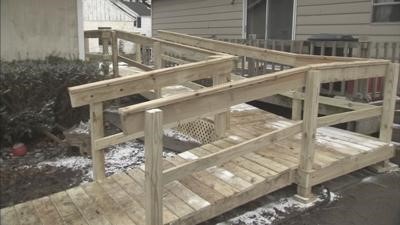 For William Black a ramp at his home is a new beginning.
Black has multiple sclerosis and has suffered with the illness for 40 years. Going up his steps was a battle he didn't want to fight.
"Falling, going up and down steps falling," Black said.
Luckily Habitat for Humanity volunteers in Owosso got involved and put in this brand-new wheelchair ramp.
It's part of an initiative to help Black and many others across Shiawassee County.
"There's really a great need," Karl Fechner, construction manager, said.
Fechner estimates around 100 people in the county need a ramp or ramp repairs.
He says a $12,000 grant has been earmarked for habitat from the Mr. Owosso fund to do some of the work needed, but they are hoping to build a lot more ramps than that money can afford.
"People with children with disabilities, older people who are not mobile anymore," Fechner said. "If you can't get in and out of your house. You are trapped."
Ramps like the one at Black's home can cost from $500 to $1000.
Fechner says he is hoping to raise awareness of the demand for these kinds of ramps and get the community even more involved.
"They can donate money," he said. "They can donate materials and they can volunteer to help build them."
And spring can't come soon enough for Black. He says this year he's not worried about how he is going to get outside after years of struggling.
"I can't wait for the weather to break and get outside and move around," Black said.